As part of our digitization strategy, EFAFLEX have entered into a business partnership with BIMobject®. As a result of our successful presence across the online platform, we have received the coveted BIMobject Award in Malmö, Sweden. A significant change is taking place in the construction industry. The advancement of digitalization is altering both planning and construction processes and thus influencing the daily work of engineers, architects and planning offices in a fundamental way. In order to support our customers and companies involved in the construction process with the digital transformation, we have been early adopters of an in-depth digitalization strategy, which included cooperation with the online platform BIMobject. We have been rewarded for our efforts: At the BIMobject Live 2018 conference in Malmö held on 9th October, we were won the "Best Use of BIManalytics Core ™ 2018" category, outperforming the competition.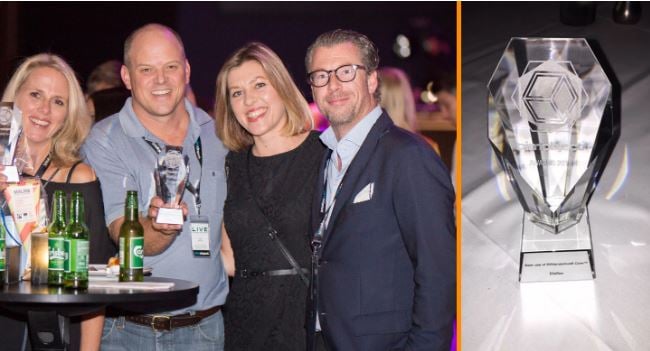 The Award Winners
Two-day conference in Sweden
As proud nominees, we traveled to Sweden to take part in the two-day conference held in Malmö on October 9th and 10th, during which we listened to informative and inspiring lectures by renowned speakers. There was also the opportunity to hold constructive discussions and network with numerous players in the construction industry. Of course, the emotional highlight for us was the award ceremony, at which our Managing Director, Hans-Jörg Kremser received the BIMobject Award. In total, six prizes in a mixture of categories were awarded that evening to companies that had either designed their BIMobject presence in a particularly appealing way or had used it successfully.
3D data for building information modeling
We have been working with the world's largest BIM online platform BIMobject since May this year (which year? Add in 2018?) to provide architects, engineers and planning offices with 3D data of our products for Building Information Modeling (BIM) in a user-friendly manner. BIM is a method in which building data is recorded digitally and combined into a virtual model. All project participants have an overview of relevant construction factors such as the products used as well as their dimensions, positioning and materials.
We use the marketing analysis and communication tool, BIManalytics Core, with which specific activities of BIMobject can be tracked. As a result, we are always informed about who is downloading our information, when and where, which enables us to attract new interested parties and reach out to potential customers.
Appealing platform appearance
We have now been recognized for our creative and consistent use of BIManalytics Core and the design of our BIMobject. After all, we attach great importance to the fact that it is bespoke to the needs of architects and planners in order to guide them to the required content in a simple to use and engaging manner.
But we won't rest on our laurels. Instead, we will continue to maximise our BIMobject presence and drive forward our digitization strategy. Winning the prestigious trophy was obviously an added incentive.