High-speed doors improve logistics for Budweiser
The Budweiser Brewery's logistics centre, which was completed in Spring 2018, has been equipped with 32 EFAFLEX high-speed industrial doors. The doors act, among other things, as separators on the conveyor belts, between the storage rooms and exits, as well as helping to insulate the hall closures.



With 32 industrial doors, we are contributing to the smooth handling of logistics processes in the distribution centre
During a visit to the new Budweiser Brewery logistics centre based in the Czech town of Budějovice, one thing quickly becomes clear: here, every element works seamlessly in unison. 1.6 million hectolitres of beer are brewed annually in the neighbouring production building and then loaded in bottles or barrels in the state-of-the-art distribution centre. There are more than 160 pallet deposits and 280 pallet removals per hour; a total of 20,000 pallet spaces are available.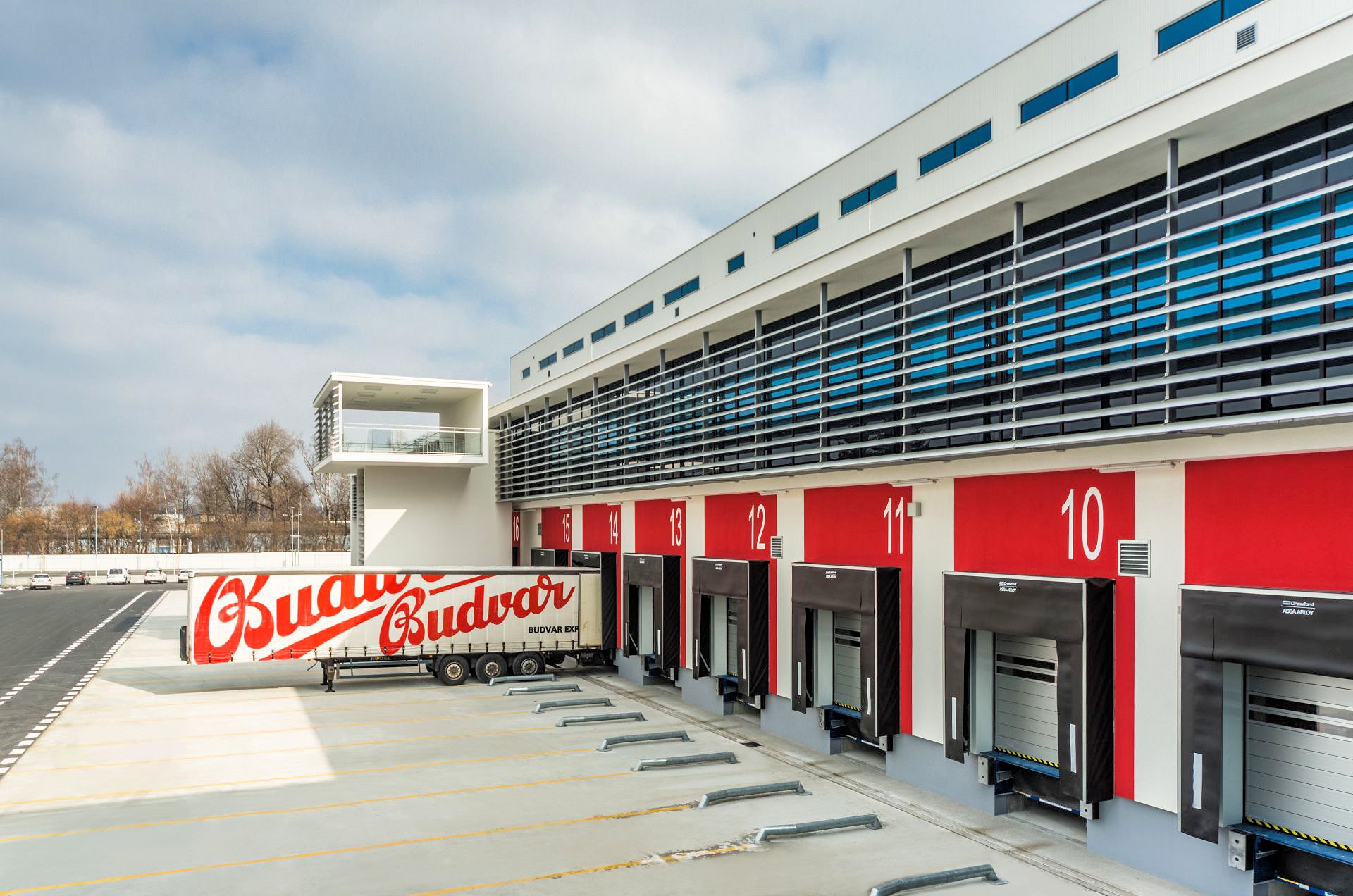 Coordinated material flows
The connection between the production building and the logistics centre is via a 164-metre-long, road-spanning bridge with electric suspension railway (EHB) at a height of twelve metres above the road. This system transports more than 2,000 bottles per minute.
The seven-aisle logistics center was attached to an existing plant in 2009 and put into operation in Spring 2018. Since then, the existing building has been integrated into the coordinated material flows with non-retroactive product transport.
Integration into a fully automated production process
32 EFAFLEX industrial doors contribute to the smooth running of the facility. For the distribution centre we installed 23 high-speed doors, which are used when loading the manufactured products. Nine other doors are integrated into the fully automated production process on the conveyor systems, whose roots date back to the 13th century.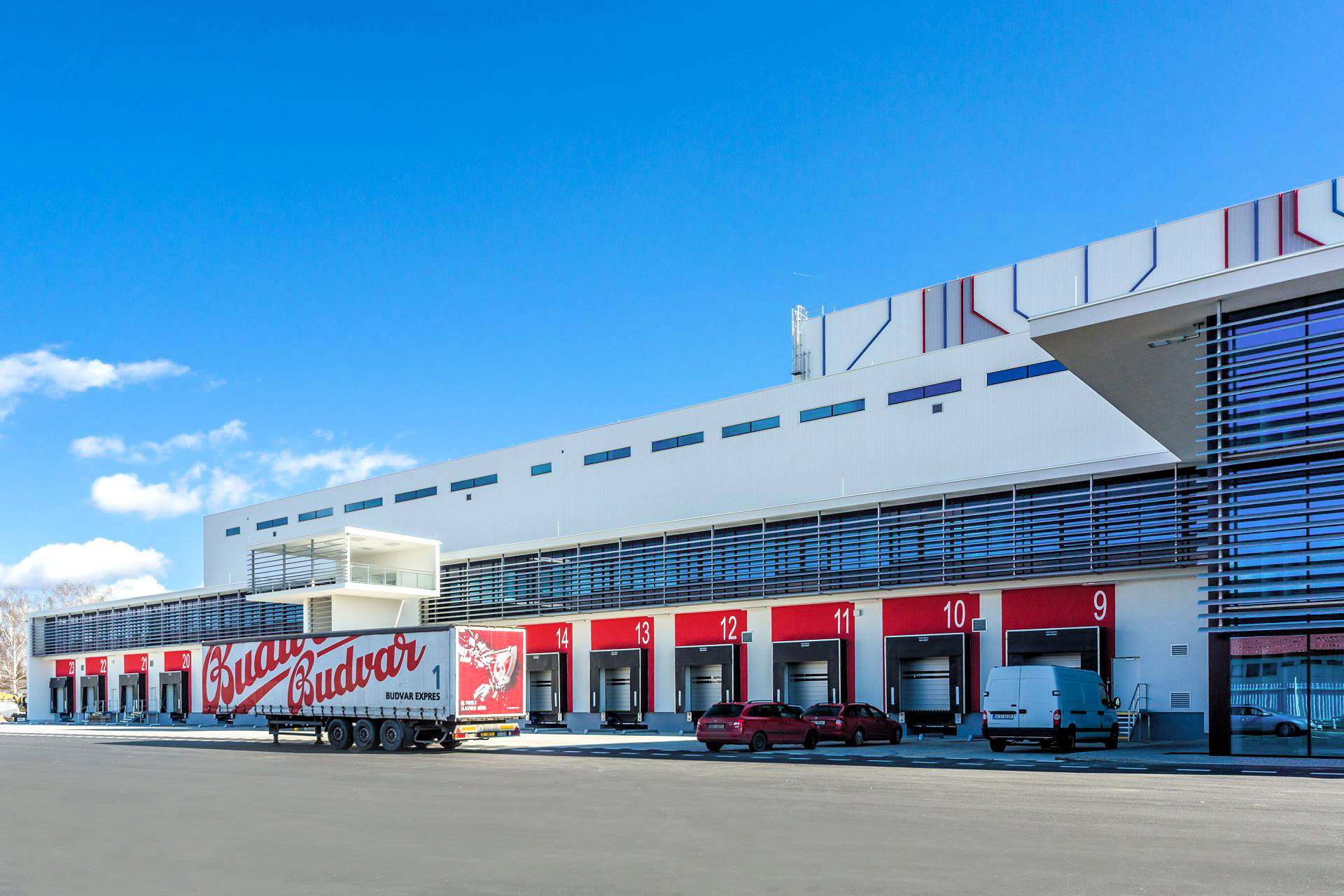 Over 250,000 opening cycles per year
'The trouble-free function of the doors is particularly important to us,' explains Dalibor Čáp, Technical Director of the Budweiser Brewery. 'Only if the plants work smoothly can it be ensured that the production and logistical processes in the plant can proceed without failures.' Because some of the products are cooled, a door disturbance would result in a huge economic loss. In some areas of the logistics centre, there are particularly high levels of traffic with the doors are required to complete more than 250,000 opening cycles per year.
Sophisticated installations
The EFAFLEX team took care of the planning and assembly of the doors as well as their connection with the central control system of the logistics centre. In addition, we will supply the brewery with spare parts if required. Budweiser has been working with us since 2005. 'I am glad that EFAFLEX was selected for the equipment of the logistics centre and has once again more than fulfilled all our expectations. The expansion had to work exactly according to plan,' says Dalibor Čáp. 'Already during the installation of the door systems and their connection with the central and the final control system, we realised that EFAFLEX has a great deal of experience working on similar demanding installations.'
In addition, there is another advantage here: 'The delivery of the spare parts is within 24 hours and directly from our own production facility which is an additional service that no other supplier can offer us.'