Controlled Environment for the Production of Sensitive Products
Cleanrooms enable the production and packaging of sensitive products in a low-particle and germ-free environment. In order to ensure the required air particle purity, access is via special doors that ensure the tightness of entry at differential pressure.
In certain areas of life, tiny details can have far-reaching consequences. Sometimes even microfine particles are enough to cause enormous damage: Even the smallest impurities, deposits, germs or microorganisms that are invisible to the naked eye can contaminate sensitive products that are manufactured or processed in cleanrooms, and thus render them unusable. To prevent this, special areas, such as cleanrooms are used.
Cleanrooms are work areas in which environmental parameters such as temperature, air pressure, air humidity and light intensity are kept constant. Above all, they are characterized by a defined maximum particle presence and size.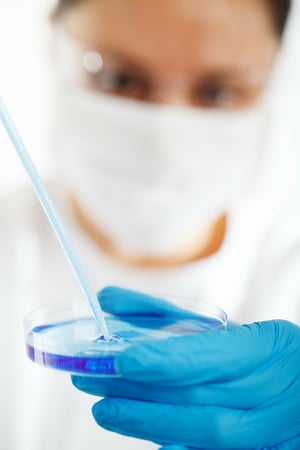 Avoid all types of contamination
In addition to the "classic cleanroom applications" in the pharmaceutical and semiconductor industries, more and more companies in other sectors are relocating their production chains, partially or entirely to cleanrooms in order to avoid any kind of contamination. The automotive, medical, bio and electrical engineering, precision engineering, optics, aerospace industry are just as much a part of this as companies in the packaging, cosmetics and food industries.
Germ-free production or packaging in a protective atmosphere saves the step of subsequent disinfection and extends the shelf life of the products. In microelectronics, the yield can even be increased in this way, since there are no particles which disrupt the structures of memory and computer chips that are only a few nanometers in size.
Man as a disruptive factor
However, keeping the particle concentration constant is not an easy task. Various disruptive factors can cause contamination. Contamination sources include people, for example, because they cause very high particle emissions. A person without cleanroom clothing releases 100,000 particles per minute into the room even when standing and sitting motionless; when walking slowly it is 5,000,000, when doing sports, it increases to up to 30,000,000.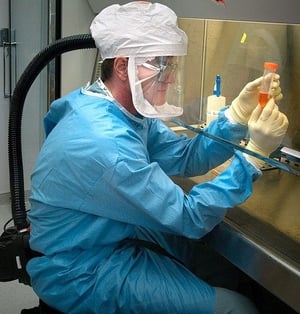 Special doors for sensitive areas
People entering the cleanroom wear safety clothing and are given access to the facility via locks that are limited by special doors. Thanks to their extremely airtight construction, the doors ensure the tightness of the entrances, even with high differential pressure. The smooth V2A surface structure with minimal (horizontal) shelves prevents turbulence and particle deposits. The curtain variants are predominantly antistatic, which further reduces particle contamination. A vertical door blade and a control integrated in the door all save space.
Reduce air exchange to a minimum
For these special areas of application, our EFAFLEX engineers have developed the products of the CR series (Clean Room), which meet the requirements of cleanrooms in particular. As they open and close at a speed of up to 1.5 meters per second, the air exchange is reduced to a minimum. With regard to their clean room suitability, the door systems are TÜV-certified up to ISO class 5 according to ISO 14644-1.
In this way, we help ensure that our customers' cleanrooms have optimal environmental conditions for the manufacture or packaging of sensitive products. Because only with an ideal room closure can production security be guaranteed.